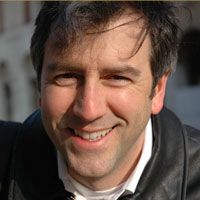 CEO and Founder
Ken Jones is a network technology strategist who helps businesses break through to new markets. With 15 years of experience addressing critical finance, marketing, and operational issues, Ken works with clients to understand their markets, focus their value propositions, and create tools to grow their business. He holds a MBA from Kellogg School of Management and has extensive experience in telecommunications industry, including mobile, fixed line, and IPTV.


As a consultant, Ken has worked with a number of start-up and established companies.
With NAVTEQ, the global leader in digital map products, Ken co-managed the product launch of a dynamic-content location-based service on mobile devices. Prior to launch, he performed competitive analysis and built a mobile advertising business plan. Likewise, Ken has also worked with Aepona, a mobile web services platform. For Aepona, he provided new market assessments, partner identification, and initial business development for web-integrated mobile and location-based services. For SeaChange International, an IPTV middleware provider, Ken re-vamped their go-to market strategy. After analyzing the competition and SeaChange's position in the market, Ken provided a targeted growth plan and a prioritized roadmap for their IPTV client-server technology. For start-ups and private equity firms, Ken provided acquisition and ROI financial models, including call-flow cost analysis of fixed-mobile convergence technologies.

From 2005 to 2007, Ken was the Director of Marketing for BridgePort Networks, a leader in fixed-mobile convergence gateway solutions. He led market research in mobile VoIP, messaging, multimedia, presence, and enterprise collaboration to prioritize new product development, resulting in 8 trials and 2 carrier launches. He also wrote solution descriptions, including value propositions, subscriber forecasts, ROI analyses, and technology explanations used by customers and sales channel partners in over 15 countries. Ken helped build the MobileIGNITE industry group of 43 companies that led to cooperative solution development.

He also wrote white papers on PC-mobile convergence, IP Multimedia Subsystem (IMS), handover, and the role fixed-mobile convergence will play in the development of the IMS market.

Prior to BridgePort Networks, Ken worked for over 5 years for Adventis, a telecommunications management consultancy. His clients ranged from mobile operators and MVNOs (Sprint, MCI, Helio) to fixed line (AT&T, Verizon, Bell, MCI, Level 3) to telecom construction firms (Mastec) to Network Equipment Providers (Cisco, Microsoft/Nortel)

Ken started his career at the Southern Pacific Railroad. He also spent three years working in corporate strategy for Exelon, the USA's largest nuclear operator.

Ken is based in Chicago.